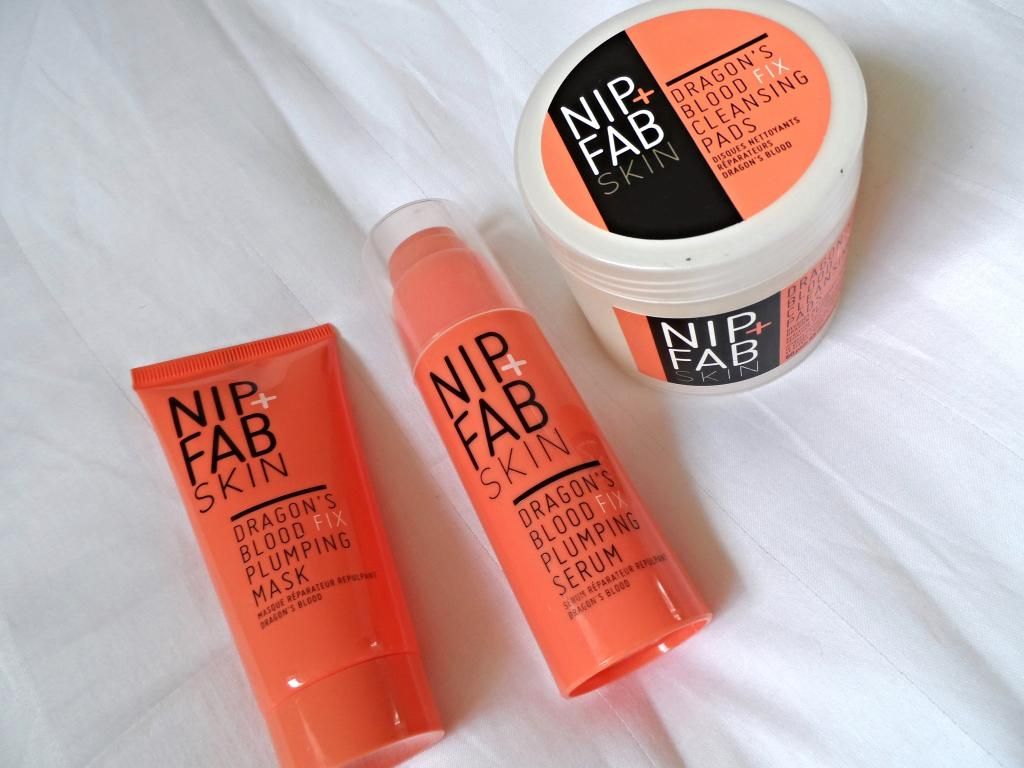 Nip+Fab are one of those brands I'm sure we've all heard of. With Kylie Jenner apparently a huge fan and having Millie Mackintosh the first ever face of the brand, big things were sure to come from the Dragons Blood Fix range, filled with hyaluronic acid to hydrate skin in aid of achieving a plumper look.
The Dragon's Blood Cleansing Pads £9.95, salicylic acid to deeply cleanse the pores and the obvious dragon's blood, comforting skin hydration. Using this to take my make up off at first seemed fine, with it being a cleanser in a pad I wasn't too worried, however getting this in your eyes is painful as hell. Towards the end of the pack my face began to feel oily, maybe that's because the product had been soaked up by the last few of the pads though, I'm relatively unsure about this. But my face began to feel uncomfortable.
Moving onto the Dragon's Blood Plumping Serum £19.95 this is a dream, "delivers an instant shot of moisture to dehydrated skin" is something Nip+Fab claim, and something they can claim so high because this does work wonders. Albeit said it's a little tightening if I don't put my moisturiser on straight away but the velvet flower enhancing the moisturisation is spot on. It's so on point it's unreal, I could sing the praises of this product. Ever since using it my face has become so clear, with only ever a few break outs.
Finally the Plumping Mask £14.95, the amino acid brightens the skin tone, but for me it more or less made my skin extremely greasy, brightening not so much. Instead of using this for 10 minutes at a time, I mainly used this as an intensive mask over night in hope it'd work better, but instead I didn't see any difference rather my face stuck to my pillow. It seems to have worked wonders for my boyfriend though so maybe it's just my skin type, which sucks because I reaaally wanted to love this product, instead I suppose he can love it.. Lil biatch.